It has been a month since i last updated my blog :)
By the way, YO people ! Assalamualaikum and a pleasant hi to all bloggers and stalkers :)
Today is 31/12/2011 and today is the last year of 2011. NOTE THIS
As the time moves, we are getting older day by day. Well, lumrah hidup actually guys.
BTW, 2011 brings me a lot of memories. Sama ada bad or cheer memories semua ada aihh haha. Same to you too right ;) *wink wink* 2011 ni mmg byk memory la..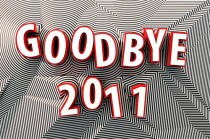 2011 contains too much/lot/various/many/lol memories, since jan until today actually.
Well, wayback when i was fifteen. I used to love a guy who semorang dh tau. *gabai* and loving this guy bring me a lot of suffers. He already had a manis girlfie yet he still text me. I dont even know why until now. But the most saddest one is when my classmates yg x tau apa2 tu dok rajin tuduh bukan2. K i know depa x ckp but sorrrryyy...AKU BOLEH BACA FIKIRAN ORANG k. My classmates semua baik but did you know that MULUT PEREMPUAN MMG DAMN. Haha! Seriously, Perempuan perghhh bkn setakat suka gosip malah menabur fitnah (lol) k tau x semua tu dosa besaq? ckp pasai org pon dh besar dosa. K aku x ckp kt sapa2. Terasa amek :P sampai skarang aku kesal sgt dgn prangai classmates2 aku. Thanx god taun dpn kami x sekelas dh. Maybe it is too jahat to say like that but...
TAKDAK ORG FHM PERASAAN AKU MASA TU!!!!!
classmates2 aku mana fhm apa. depa suka ckp psai kami dri belakang, mcm la x tau. dh 2 incident anis terasa ngn depa. aku igt satu ja, satu g lupa ah.. aku ? toksah ckp la byk juta kali dh aih terasa ngn depa. and one of the reasons anis break-up dgn ezral sbb classmates jgk tau. i don't know who and i don't want to blame anyone but seriously kami semua cerdik cerdik la xkan xleh fikiaq. Seingat aku salah satu sebab anis break ialah sbb ezral igt anis suka kt syed izzudin. and guess what? KAMI X PERNAH CKP PASAI SYED KECUALI DLM KELAS. then sapa lg nk menabur fitnah selain classmates sendiri?? It's hurt you know. aku sedih tgk muka anis masa dia break ngn ezral. Dia nanges mcm org gila tau dk? She's my fren, my besties! aku faham perasaan dia ! and the one yg sebar fitnah bkn tau apa pon. Kesian anis tau dk? ezral syg dia gila dulu~ i miss that moment. Well walaupun this is not the main reasons why depa break but this is ONE of them. Seriously aku nanges masa type post ni. Sumpah nanges. Mmg menyesal dgn sikap classmates aku. and kalau sedaq ar aku mmg moody ckit dlm kelas and aku pagi2 aku selalu p kelas 3a2 sbb apa? sbb aku meluat classmates aku. FULLSTOP. tp classmates laki lain. depa cheerful mcm mana tah. rare sungguh ! :DD
K that's enough to story. Byk lg actually. But, yg sudah tu sudah laa.. Aku dh lupakan semua tu k. Aku x benci sapa2 pon cuma hahah kdg2 tu menyesai pon ada. Menyesai why i was staying in a4 for 3 years. Kwn ajak pindah kelas x mau masa form1. Nah sekarang hambek kau nabila ! xD *ayaq mata dh kering* so kite sembang pasai heppy2 plak
Ingat lg x masa amik PMR? tu salah satu moment masa 2011.
Ingat lagi x masa pasca pmr? tu pon memori 2011.
Ingat lagi x cikgu fuziah, cikgu azaha, ustazah, tcher selva omg.
This was all memories. Tak boleh putar balik :) Sumpah rindu gila time kita rajin usha kot tingkap. and uhhh sarves knows everything. He's my bestfriend okay. OMAI aku nk sekelas dgn dia!!!! :'(( dia bdk baik tp dgn aku jahat gila xD Eh apa dia baik? *tunggu sat!* Ni dialog dia dgn aku dgn nadia ,
Nadia : Sarves, pinjam buku revision sc. Nk study
Sarves : Okay, tp jgn bg dekat nabila.
Khojaq hg... xDDDD tkpa tkpa aku ingat sarves *sob sob*
And jeng3 4 minutes more countdown to 2012. Hehe and 2012 is not yet the end of the year. WHY? Because tu rahsia Allah S.W.T. "Bila kita dh tau, bkn ka tu bkn rahsia dh??" -my fren said- :D
okay aku gembira dpt 8A. Kbye nk sambut tahun baru dgn penuh keinsafan. K assalamualaikum. Merapu ler blog i nih :P